Digestion
Fruit & herbal syrup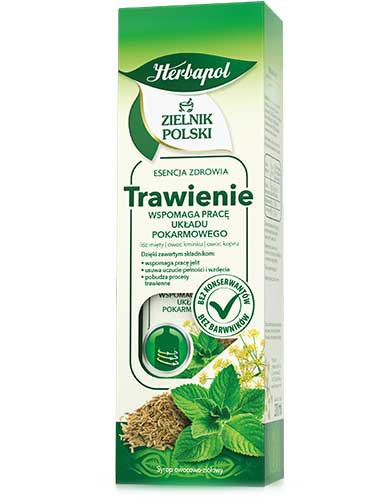 Buy now

Smaczna herbata
Polish Herbarium – the Essence of Health DIGESTION is a composition of mint, fennel and caraway which improves bowel and stomach function, relieves the feeling of fullness and bloating and helps excretion of digestive juices.
An effective dose of herbs supplied in a bottle and easy to use: the liquid is an excellent addition to water or tea, although it can also be taken undiluted with a spoon.
Polish Herbarium – the Essence of Health is aimed at individuals over 44 years of age who are committed to a healthy lifestyle.
Important:
Free from colourants, preservatives and alcohol
Ingredients:
Sugar, water, concentrated apple juice, peppermint leaf extract (1.54%), fennel fruit extract (1.45%), caraway fruit extract (0.5%), acidity regulator: citric acid.

Do not use in people who are allergic to any ingredient of the product.
Contains negligible amounts of fat (including saturated fatty acids), protein and salt.

The sediment indicates the presence of natural ingredients and is not a product defect.
Shake before use.

Contents:
200 ml