Green-Up Acai
Forest fruit and acai-flavoured energy drink, sparkling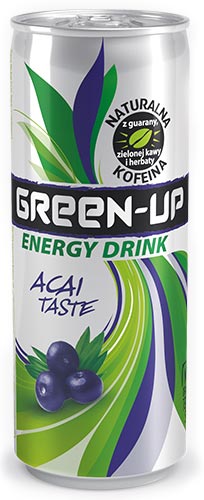 Buy now

Smaczna herbata
Green-Up Acai is a unique energy drink. Its true stimulating power comes straight from nature: natural caffeine and guarana extract. Acai berries are extraordinary fruit which will surprise you with juicy refreshment and energy hidden within. Taste the strength derived from nature with extremely fruity flavour. Recommended for adults during periods of increased physical and mental exertion. Perfect for long routes.
Important:
High caffeine content (35 mg/100 ml). Not recommended for use by children or women who are pregnant or breast-feeding. Do not combine with alcohol. Consume in moderation.
Ingredients:
water, sugar, carrot concentrate, carbon dioxide, acidity regulator: citric acid, caffeine, flavouring, guarana extract (0.02%), acai extract (0.01%).

Contents:
250 ml