Vitality
Fruit & herbal blackcurrant-flavour syrup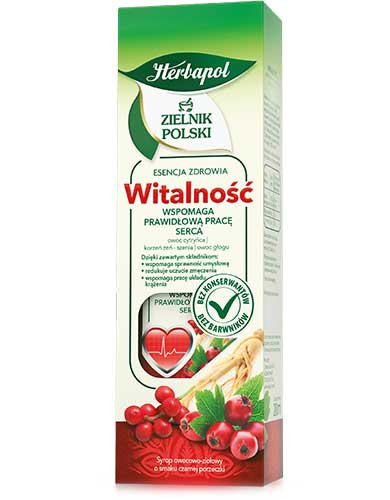 Buy now

Smaczna herbata
Polish Herbarium – the Essence of Health VITALITY is a unique combination of hawthorn, magnolia vine and ginseng root which help heart and brain function and reduce fatigue.
An effective dose of herbs supplied in a bottle and easy to use, the liquid is an excellent addition to water or tea, although it can also be taken undiluted with a spoon.
Important:
Free from colourants, preservatives and alcohol
Ingredients:
Sugar, water, concentrated blackcurrant juice (6.2%), concentrated chokeberry juice, acidity regulator: citric acid, ginger extract, hawthorn berry extract (0.4%), ginseng root extract (0.25%), Chinese magnolia-vine berry extract (0.12%), flavouring.

Do not use in people who are allergic to any ingredient of the product.
Contains negligible amounts of fat (including saturated fatty acids), protein and salt.

The sediment indicates the presence of natural ingredients and is not a product defect.
Shake before use.

Contents:
200 ml